NASA Meets Theologians to Discuss How We Respond to E.T.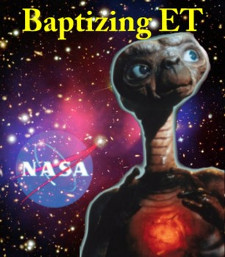 Last week the Library of Congress in Washington hosted a two-day symposium entitled "Preparing for Discovery: A Rational Approach to the Impact of Finding Microbial, Complex, or Intelligent Life Beyond Earth."
The timing seemed right with the discovery of thousands of exoplanets, some lying within Earth-like Goldilocks Zones around their parent stars, and with further evidence from Martian meteorites and discoveries made by Curiosity, the Martian rover, showing a past habitable environment on the Red Planet.
The symposium invited scientists, philosophers, theologians and historians from around the world. Participants were asked in the face of mounting evidence that life and maybe even intelligent life exists on remote worlds, what should humanity's reaction be.
The audience was given an update on the current search for extraterrestrial biology including finding chemical signatures in atmospheres of exoplanets that indicate life, direct observation such as Curiosity uncovering layers of carbon strata as it climbs the hills around Mt. Sharp, or detection of radio signals which would indicate intelligent life elsewhere. They were then asked how humanity should handle such discoveries. If we discovered microbial life, what kind of impact would that have on us? If we discovered a technically sophisticated life, what would our reaction be? Further discussions focused on transcending anthropocentric thinking, questioning whether we should assume that all life was built on the same principles as life here on Earth, that our biology wasn't universal. In the event of coming across life built on chemistry different from ours, would we even recognize it as life?
Theologians were asked to consider the status of alien life within the context of morality. What would be our responsibilities in dealing with extraterrestrials whether microbial or more complex life forms? We humans here on Earth have shown through past behavior little regard for other living things. If we can't eat them or domesticate them to help us then we often decimate them. It's only recently that conservation and biodiversity have been adopted as core values within our human existence. So in discovering life elsewhere what would be our behavior? Destroyer or conservationist?
In one session Christian theologians were asked if they would baptize an extraterrestrial A Jesuit in attendance is quoted by the Huffington Post as stating "any entity – no matter how many tentacles it has – has a soul." So on the question of baptism, if E.T. asked baptism would be granted.
###
Len Rosen lives in Toronto, Ontario, Canada. He is a researcher and writer who has a fascination with a longstanding science and technology. Len is a futurist, writer and researcher for technology companies making a difference.
This article originally appeared on his blog here: http://www.21stcentech.com/nasa-meets-theologians-discuss-respond-e-t/