Blue Collar AR — Augmented Reality Gets to Work with the Daqri Smart Helmet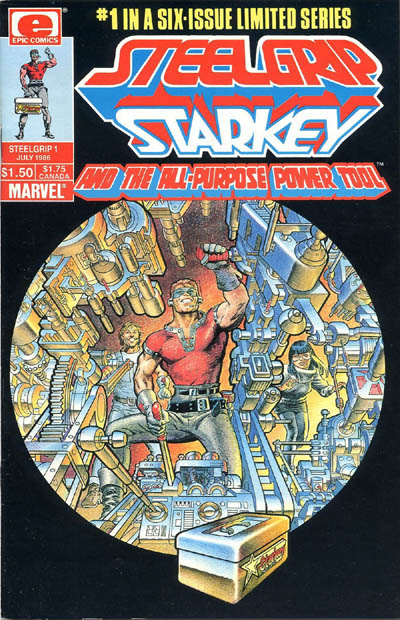 When I was 10 years old this marvel comic cover of SteelGrip Starkey fascinated the heck out of me, America's hardest working hero; a futuristic construction worker who was a force for good because he had the right "power" tools.
Imagine to my surprise when I stumbled upon Los Angeles-based startup DAQRI's smart safety helmet for blue collar workers! BANG, transported to my childhood visions of building the future with tools that could make me the nexus of performance rather than just another peg in a hole.
Their site states "every aspect of DAQRI Smart Helmet was designed with the industrial work place in mind, from its advanced sensor package to the intuitive user interface that requires zero calibration, to the battery life that lasts an entire shift".
The helmet is aesthetically easy on the eyes and definitely hints at this is more than you think, especially when the promo video shows the dual google glass looking HUD drop from above the brow down into the field of vision.
DAQRI claims that the helmet has more computing power than any other wearable device, sporting a couple of Qualcomm Snapdragon processors. The company has developed their own custom software called IntelliTrack that overlays augmented data onto real-world surfaces in real-time. There are sensors that wrap around this device that afford a 360 degree field of vision with HD video and photography and is supposed to operate just fine in low light. It appears they are really pushing augmented reality technology to that sci-fi movie playing field.
"The new standard for industrial wearables – DAQRI Smart Helmet is an elegant fusion of the most sophisticated display and sensor hardware with next-generation computer vision".
I would have to agree. The device has been in the works for four years and what I've read and seen has impressed me. See their video.
[su_youtube url="https://www.youtube.com/watch?v=qIU456jtkmw" width="380″]
DAQRI is looking to release the Hard-Hat within a month and the cost is expected to be thousands of dollars, but it's aiming to market to big money corporations that can afford it.
In my personal opinion this device looks and functions better than any of the military or DARPA integrated Future Combat Systems I've seen that are supposed to do the same.   If the helmet actually does everything it claims then I can't wait to see what the second generation will be capable of doing, and if it can be supplemented with a powered exoskeleton and have drone connectivity; Steelgrip Starkey will be jealous for sure.
So when DAQRI says "The most sophisticated industrial wearable device". The only thing missing from this helmet is a propeller on top and steering bars.
###
David Marini is an Ephemeralization Designer and Co-Founder of QFAZE.
He is looking to inspire and promote the concept of Hyloponics (matter working),
and bleeding edge technological ideas that go well beyond Post-Humanism.
http://qfaze.com
https://www.facebook.com/theqfaze