Event: Doug Wolens' Singularity Screening at The Castro Theater San Francisco — Sept. 16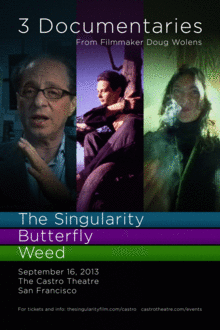 Just off special screenings at NASA and Yerba Buena Center for the Arts, Doug Wolens' new documentary will premiere on the giant silver screen at San Francisco's historic Castro Theatre. YEA! An awesome venue for the premiere of the most comprehensive and insightful documentary film about The Singularity to date.

 
Within the coming decades we will be able to create computers with greater than human intelligence, bio-engineer our species and re-design matter through nanotechnology. How will these technologies change what it means to be human? Director Doug Wolens speaks with leading futurists, computer scientists, artificial intelligence experts, and philosophers who turn over the question like a Rubik's Cube. Ultimately, if we become more machine-like, and machines more like us, will we sacrifice our humanity to gain something greater? Or will we engineer our own demise?
75 minutes, Not Rated
Showtimes: 4pm and 8pm
Q&A with filmmaker Doug Wolens to follow the screening.
For more information go to: www.thesingularityfilm.com
Official event listing: www.thesingularityfilm.com/sf
The Castro Theatre listing: http://www.castrotheatre.com/s-events.html#sep16
Facebook page: www.facebook.com/thesingularityfilm
Tickets now available through Brown Paper Tickets: http://thesingularity.brownpapertickets.com/
Facebook Event Page: https://www.facebook.com/events/351312515001460