Sirius Documentary About Moronic Aliens
Occasionally I hear about how people think aliens possess Singularity level technology, or near Singularity level technology. Some people think advanced alien technology has fallen into the hands of a few secretive humans in the government or military. I think people who subscribe to these alien ideas have been watching too many Transformers films.
Criticism is imperative regarding people who speculate about aliens landing or crashing on Earth. More importantly, aside from the criticism, their ideas also offer me an opportunity to explain the magnitude of the Singularity. This is a chance to explain how technology progresses rapidly when it reaches a significant level of advancement. It's worthwhile to contemplate the possibility of the Singularity occurring first via aliens, before humans reach the Singularity. This is an opportunity, regarding the criticism of alien theories, to explain how the intelligence explosion will touch every aspect of the universe thus humans will know if aliens achieve the Singularity first.
Recent alien Singularity speculations, so I have been informed, pertain to something called the Sirius Disclosure. It is total BULL-shizzle of course, which is typical regarding anything about aliens. It reminds me of the Mayan 2012 end of the world, or Camping's Rapture. Apparently there will be a revelation on 22 April 2013 regarding Dr Steven Greer's Sirius documentary.
@2045singularity you won't want to miss siriusdisclosure.com on 22 April 2013 – the singularity is closer than 2045 – bring it on!

ó koolstack (@koolstack) April 6, 2013

Below is the Sirius trailer, which seems to be serious but it could be a joke-hoax by R U Sirius, although there is no evidence to suggest a joke or any connection to R U Sirius. The Sirius disclosure is supposed to be truly serious. I suspect it pertains to the Sirius star, it's actually nothing to do with the respected cyber-denizen R U Sirius.
I think aliens are utterly non-existent excrement. There is absolutely no reason for aliens to be secret. In essence they exactly resemble God, or the simulation hypothesis. The secrecy makes no sense whatsoever, the ideology is merely escapism, it is very delusional. In addition to The God Delusion I think Dawkins needs to write The Alien Delusion and The Simulation Delusion.
To highlight execrable nature of theories about aliens let's consider a book tilted "The Sirius Mystery: New Scientific Evidence of Alien Contact 5,000 Years Ago," by Robert Temple. The Sirius Mystery was first published in the late 70s, which by now (2013) is a long time for alien technology to develop, if aliens truly arrived on Earth in the late 70s, assuming their technology was capable of traversing the vastness of Space in the 70s. Our world has changed a lot over the past 35 years but how would aliens change over the same timespan?
The Sirius star is approximately 8.6 light years away from Earth thus a significant level of technology would be needed to traverse the distance. Consider how us humans, despite our technology, have not yet sent a manned mission to Mars, thus you begin to grasp the requisite level of technology for light-year travelling aliens. So if you imagine a level of technology capable of traversing 8.6 light years in the late 70s, think about how much this hypothetical technology would've advanced by year 2013.
Humans, such as ourselves with our primitive technology, we have advanced significantly since the 70s. Most people agree our speed of progress is accelerating, we've actually come a long way in the past 15 years. So, how far do you think very proficient aliens would advance in around 35 years? I think they would surely have experienced the Singularity, which humans would have noticed. We are not however considering a mere 35 years, we are considering, according to Robert Temple, aliens possessing the ability to traverse 8.6 light years 5,000 years ago!
5,000 years is a long time for technology to mature within our universe. If aliens could have travelled 8.6 light years 5,000 years ago, their technology would now be utterly unavoidable for everyone in the universe because the rate of progress accelerates, the acceleration cannot be stopped, there would surely have been a universe level explosion of intelligence, noticeable by all intelligent life. The Singularity will be a very rapid, very powerful, explosion, noticeable by the whole universe. It therefore seems clear humans will be the first intelligent beings in our universe to experience the Singularity circa 2045, whereupon very shortly afterwards the whole universe will be aware of it.
What does the US government say about aliens? In November 2011 the White House officially denied any contact with aliens but Gizmodo responded by stating the White House would obviously deny contact, which perhaps implies if something is secret it will be denied, that governments never tell the truth. Here is what the US government said: "The U.S. government has no evidence that any life exists outside our planet, or that an extraterrestrial presence has contacted or engaged any member of the human race. In addition, there is no credible information to suggest that any evidence is being hidden from the public's eye." Governments can be very dishonest but this doesn't mean they're always dishonest. In this case I am sure they are being honest. To determine the truth we need to logically consider hypothetical alien technology and visitation.
Aliens have nothing to fear from humans because their technology needed to travel to Earth would far surpass our current technology. Their technology would easily protect them. Any galactic or intergalactic level of civilization will inevitably invent AI, furthermore AI would be combined with extremely advanced nanobots, thus any alien would have a tremendously clear grasp of intelligence even if intelligence differed from their own type of thinking.
Despite inevitably supreme technology, inevitable high intelligence, aliens oddly crash their ships on Earth, or they incompetently carom around our skies while conducting technologically primitive experiments of an anally probing nature on humans. Surely aliens could invent a human body on a chip, especially when you consider humans are close to achieving this breakthrough, thus there is no need to probe anuses? Aliens could easily download everything they need to know about anuses including the psychology of anal penetration from the Internet, or regarding pre-Internet abductions I'm sure aliens could have created virtual non-suffering simulated humans for their anal penetration. Capturing humans then probing their anuses makes no sense. The anal probing nonsense is merely a human fear, it is nothing to do with actual aliens.
Aliens, if they had the technology needed to travel to Earth, could easily protect themselves during all communications with humans, they could easily communicate with us in a very sensible manner, they could end all our suffering, which any advanced creature would understand the intelligence or ethics of doing so, but identical to God, or simulation controllers, aliens remain secret, very elusive, they let us suffer and die because they don't exist. They show clear evidence of being intellectually immature, they are positively retarded.
God definitely doesn't exist but perhaps, very likely, there's a very primitive pre-Singularity civilization of non-human beings somewhere in the universe very distant from Earth, although I can assure you, very definitely, advanced beings don't exist because the level of advancement required for travel to Earth entails the Singularity, but the Singularity hasn't yet happened. If technologically super-aliens existed anywhere in the universe I guarantee we would have heard about them, they would have at least sent us a care package, furthermore their care package would be intelligent enough to avoid falling into the hands of a elite group who would suppress it.
Wherever you are in the universe you will know about the Singularity when it happens, but it hasn't yet happened. Humans are apparently the most technologically advanced race of beings, or perhaps there is another pre-Singularity culture sightly ahead of us but there are definitely no beings in the universe with the requisite advanced technology to reach Earth.
The idea of advanced aliens coming to Earth then idiotically and irreparably crashing their ships, or dying in some other way, it's utter nonsense. Likewise regarding their mysterious abductions, landings, or their darting airspace obscurantism, it's pure nonsense. If they crashed, which is an incident their inevitable AI-systems would actually never allow to happen, their inevitable crash protection devices, or their self-repair mechanisms, would ensure no harm whatsoever comes to their ships or themselves, they would definitely not be captured by a technologically primitive race of beings. If humans can create stem cells from blood or urine, which can then create brain cells, surely aliens will have very advanced regenerative medicine, instant repair nanobots flowing in their blood, or whatever they have instead of blood?
Surely their ships, computers, their 3D-printers will be self-healing and ultra rapid? Sufficiently advanced technology quickly leads to utterly resilient immortality and super powers, powers which would easily protect you from any accident you can imagine. Aliens simply do not crash-land on Earth, there are no secret advanced propulsion systems, no magic technology retrieved from extraterrestrial vehicles, which global governments are refusing to disseminate. The Illuminati are not in contact with aliens.
Aliens are merely a new religion, they are a new God identical to all the other non-existent Gods who, for some utterly inexplicable reason, refuse to communicate in a sensible way, but an absence of sensible communication is not actually inexplicable, the answer is simple, there is a good reason why aliens can't communicate sensibly: THEY DON'T EXIST ON EARTH! They don't visit us, although maybe they do exist. Apparently, so I have been informed, aliens are not actually elusive, you simply need to know the technique (archived) regarding how to contact them. It's a shame aliens don't use email, or Twitter, which would be be a lot easier. Surely aliens could set-up a website?
@2045singularity ETs are not elusive – you just need to know the protocols required to contact them new.cseti.org/et-contact-tooÖ
ó koolstack (@koolstack) April 8, 2013
Sadly the existence of UFO theories or news is prolific, seemingly endless. Perhaps if you fortunately avoid the coming deluge of Sirius videos you will sadly encounter other alien nonsense at some point in our idiotic pre-Singularity future.
What precisely does our future hold? Maybe idiocy will be eternal? Perhaps aliens really are morons, maybe the Singularity cannot cure stupidity. I often wonder if humans can ever be truly intelligent. Perhaps humans are so stupid they will somehow always be immune to the Singularity, thus perhaps aliens are also irredeemable fools utterly immune to the intelligence explosion, maybe the universe will always remain utterly dumb. What do you think? Are you excited about the forthcoming Sirius documentary? Are aliens and the universe immune to the Singularity?
The only possible way to explain aliens in the context we are considering is if the aliens are total morons. If aliens truly existed in their current state, where they visit Earth secretly, they would need to exceptionally stupid, improbably stupid, so stupid they can't perform basic tasks such as flying a spaceship. I don't however think aliens are utter imbeciles. I think there is a simpler explanation, a more rational theory. Aliens do not visit Earth either via controlled or crash landings. The problem resides wholly with humans who believe aliens are secretly visiting Earth. The problem is regarding scarcity, which sometimes causes humans to believe in wild fantasies. Scarcity can cause a desperate type of thinking, a cultural type of thinking tentatively addressed in the book: "Neuroscience, Psychology, and Religion: Illusions, Delusions, and Realities about Human Nature." Aliens simply are not secretly visiting us to experiment on us or guide our evolution, they definitely don't foolishly crash their ships.
Roswell Incident
To summarise and conclude this article regarding belief in alien technology on Earth, it is vital to mention Roswell, specifically Philip J. Corso who wrote "The Day After Roswell." Note how the Guardian newspaper cited and listed at number eight The Day After Roswell, regarding its 2001 list of top ten literary hoaxes. It would be wrong to think the Guardian assertion of a hoax is sufficient refutation of Corso's views. We therefore need to look at the logic of Corso's assertions to glean a full refutation. Before we delve into what Corso actually asserted it's important to consider how Philip's son has continued in his father's footsteps.
Philip Corso Jr. states the Roswell craft was actually a time machine containing human AIs from our future. Time travel raises many interesting questions. A key question is how to spatially locate a historic instance of Earth. Our solar system travels at approximately 52,000 mph through Space, which in addition to the speed of planetary rotation (1,000 mph) makes spatial location tricky, thus travelling in time requires precise travel at great distances in Space because Earth from 35 years ago is approximately 159 billion miles away from our current position.
27 minutes into the 2004 X-Conference Philip Corso Jr. explains how remote viewing is the solution to the spatial problem of time travel. So you see advanced alien level technology, from crash-landed ships on Earth, quickly leads into pseudo-science (paranormal remote viewing). If these advanced aliens are capable of remote viewing and time travel, surely they could have teleported out of their ship, via paranormal methods, before they crashed?
Now let's consider the views of Corso senior. Various sources summarise The Day After Roswell similarly to this quote: "Colonel Corso tells that there were five extraterrestrials, 4-1/2 feet tall with greyish-brown skin, four-fingered hands and oversized hairless heads, found at the Roswell UFO crash site, two of them still alive. One tried to run away and was shot by nervous soldiers." Likewise various commentators typically relate how multiple technologies, very advanced at the time, were supposedly gleaned from the spaceship, technologies such as fiber optics, lasers, night-vision equipment, super-tenacity fibers (such as Kevlar plastic armor), stealth aircraft technology, and Star Wars particle-beam devices.
Stealth technology and particle beam devices seem to imply an awareness of conflict. I'm certain all intelligent beings during the earlier stages of their evolution will experience conflict due to scarcity, but if for some reason intelligent aliens are utterly unaware-naive regarding conflict, despite developing stealth technology and particle beam devices, I am sure their intelligence would at least allow them to deduce other beings could be hostile. Considering the inevitable alien awareness of potentially hostile humans, why were the Roswell aliens, one of whom was shot by nervous soldiers, not wearing body armour based on their "super-tenacity fibers (such as Kevlar plastic armor)," technology which humans gleaned from their ship?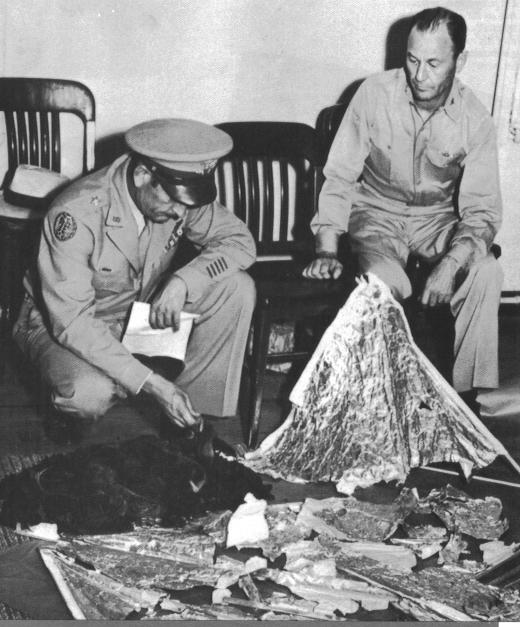 It seems such a simple matter for technologically advanced aliens, possibly with time travel ability, to quickly 3D-print advanced Kevlar type armour able to protect them from human bullets. If aliens can travel light years through Space surely they have the intelligence to wear some Kevlar armour, surely they had a multi-purpose printer on their ship? Considering hypothetical alien technology and intelligence, it is extremely odd that one of the supposed Roswell aliens "…tried to run away and was shot by nervous soldiers." Surely the alien would have been wearing full body armour? Surely it could have set its particle beam technology, phasers, to stun? It seems if the Roswell aliens did exist they were spectacularly inept, utter morons.
Is a surreptitious dissemination of Roswell technology really responsible for our current level of progress? Or were the seeds of progress already sown before Roswell? In 1936 Alan Turing wrote a paper "On Computable Numbers," which was essentially a blueprint for creating a digital electronic computer, thus Turing's later paper in 1950 titled "Computing Machinery and Intelligence" was entirely expected, definitely not surprising. Turning's 1950 paper doesn't seem to be the product of the alleged 1947 Roswell Incident. Prior to the Roswell incident there are many other indicators demonstrating how our current level of tech is purely due to human ingenuity. The entirety of human progress can easily be explained by our human ability to think, our ability to reason.
So what did happen at Roswell? In 2007 the Daily Mail wrote about how Lieutenant Walter Hau released a sworn affidavit, opened after his death. His affidavit asserts "…the weather balloon claim was a cover story, and that the real object had been recovered by the military and stored in a hangar. He described seeing not just the craft, but alien bodies." If bodies were recovered it is very likely the alien bodies were the result of top secret human military experimentation. The alleged aliens demonstrated all the signs of being very dumb, thus they wore no Kevlar body armour (despite possessing the technology), they had no energy weapons to defend themselves from being shot (despite possessing the technology), they didn't use robots, and they crashed their ship contrary to their supposedly super advanced (light-year travelling) technology.
Roswell could have been an early attempt to use monkeys for Space flight research. Officially monkeys were used by the US government during 1948-1961, approximately, thus it's reasonable to assume the Roswell aliens were actually monkeys, partaking in early unofficial tests. Perhaps during gestation, the monkeys had been altered via hormones or other chemicals. Note the squirrel monkey named "Miss Baker" prior to her 1959 Space launch, via a Jupiter missile, she already looks very alien without any medical tampering. Perhaps if Miss Baker's fur was shaved off she would be a perfect Grey? All the evidence regarding aliens indicates aliens have no greater intelligence than monkeys. Maybe aliens are sending their version of monkeys on test flights, but surely super advanced aliens could invent very competent robots? Why would aliens send manned or aped missions?
There are already many examples of humans creating reasonably skilled robots and we don't yet have the technology to travel one light year. Surely it would be more sensible for aliens to send robots, which they could operate via virtual reality, similar to how the army is regularly using drones?
There is also a possibility the Roswell Incident was a Soviet PSYOP, according to Annie Jacobsen in her book "Area 51: An Uncensored History of America's Top Secret Military Base." Jacobsen claims the alien survivors at Roswell were human children, surgically altered via the assistance of Mengele, intended to create an Orson Welles War of the Worlds type of confusion. Bloomberg reported in 2011 regarding Jacobsen's view: "The craft, she writes, wasnít an alien spaceship, as many have since theorized, nor was it a weather balloon, as the U.S. military alleged in its clumsy cover story. It was, according to Jacobsen, a Nazi-inspired Soviet spy plane with Cyrillic letters embossed on the hull, crewed by malformed adolescents, two of whom survived the crash." NPR reported on Jacobson's views by noting how the Atomic Energy Commission, the Department of Defense, and the CIA all used Area 51 "…to conduct controversial and secretive research on aircraft and pilot-related projects, including planes that traveled three times faster than the speed of sound and nuclear-propelled, space-based missile launch systems."
Considering the nature of military testing I think US test-pilot monkeys are the most plausible explanation for Roswell. The assertion of a soviet PSYOP could be more disinformation, on top of the weather balloon story, intended to conceal how the US acquired Third Reich aerospace engineers Walter and Reimar Horten regarding a "flying disk," which the Horten brothers allegedly created. It is unclear whether or not the Horton brothers really assisted the US government but Operation Paperclip clearly shows the US did recruit at least some Nazi engineers and scientists after the war. Whatever happened at Roswell is certainly nothing to do with real aliens. Perhaps Roswell was a US PSYOP regarding a precursor aspect of MK-Ultra, perhaps the intention was to create a new religion for people who refuse to worship traditional Gods, thus the worship and obsession with aliens was born, which thereby stops people thinking about real issues, issues which The Power Elite don't want you to think about, issues of wealth inequality, namely the inevitable control, constriction of freedom, which scarcity entails.
When the Sirius disclosure happens on 22 April you can be totally confident you aren't seeing an actual tiny alien being dissected. You are either witnessing a PSYOP; an aspect of human on human genetic experimentation (chimeras, transgenic animals, improperly discarded research, or a creature escaped from the lab); a natural (or contaminant) related birth defect pertaining to a miscarried human foetus; a prank; or a prop from a film set; definitely not aliens.
The only way to actually acquire sophisticated alien technology is to create it ourselves via solid investment in tangible research not via attempts to uncover ludicrous and non-existent alien conspiracies. The Singularity is an explosion of technology regarding exponential growth. Evidence clearly shows the rate of technological progress speeds up when a specific level of proficiency is attained. We are only beginning to grasp how technology is noticeably accelerating. Relatively soon everyone everyone will comprehend how we will see at least 20,000 years worth of progress during this century, based in the 2001 rate, instead of a mere 100 years of progress, thus no later than 2045 than there will be an intelligence explosion leaving an utterly indelible mark on the universe. Humans and aliens alike will cease to be hindered by stupidity when the Singularity happens. Don't waste your time on alien nonsense, think about something intelligent instead: Singularity 2045.
I realise the topic of aliens can be a passionate and perhaps delicate issue. I am not maliciously trying to destroy belief in aliens. I have been blogging since 2010 and my purpose is always to increase human intelligence via food for thought. Living in our pre-Singularity world of deficient intelligence is very difficult for me. Within the everyday mechanisms of our world the daily lack of intelligence is something I find excruciatingly painful. My life is a great burden therefore I would be grateful if you could try to be sensitive regarding any objections towards my viewpoint. If, due to the burdens of my existence, my blunt expressions appear callous, please forgive me. I bare you no ill will. I'm not trying to antagonize you, I actually want to edify you but I fear I need lessons in diplomacy. I am merely trying to increase human intellectualism via looking at issues from an alternate viewpoint.
Hopefully I can convince you aliens capable of travelling to Earth wouldn't idiotically crash their ships, neither would they stupidly give their technology solely to the Illuminati, neither would they have a senseless need for secrecy. Aliens capable of travelling to Earth would not be morons. I hope you will see how the only way to make our world a better place is via the scarcity-eliminating Singularity, the intelligence explosion.
For Singularity relevant news or to help accelerate the Singularity, please follow SINGULARITY 2045 on Google+.