Future of Entertainment – Global Community Scenario Gallery (Part II)
Future of Entertainment
The future always intrigues us! And entertainment has always been an integral part of our lives. We kicked off our first initiative to explore the signals regarding the future of entertainment via primary and secondary researches, expert interviews and crowd sourcing. We wanted to find out, "What will entertainment mean 10 years or 20 years from now?" This exploration is an ongoing journey and there will be many more insights as we move ahead, BUT we already do see some patterns emerging.
Entertainment has not one future but MANY futures! The increasingly connected-world view of today can sometimes amplify, just the views of those with digital muscle and means of production. Hence, at one level it may appear that there is just one future that is technology fueled  cost effective and disruptive in nature. However, a broader view says that there will most likely be millions of futures where technology, cost-effectiveness and disruption may be understood and used in many different ways.
The 'preferred' Future(s) of Entertainment (and edutainment), it turns out, may not just be about very high-tech and sci-fi scenarios, BUT maybe more about scenarios which have a blend of the following attributes:
Inclusivity
Ease of Access
User control
Immersion
Learning Opportunities
Connecting with People
Fantasy
When we interacted with eminent Social Scientist Shiv Vishwanathan, he reinforced our belief that 'many' futures of entertainment will exist. As our subsequent step we wanted to explore these futures and travelled to Chennai to begin with, to meet filmmakers, playwrights, actors and critics and know their future visualizations for entertainment. We were fascinated with so many ideas and our fascination can't be captured in simple words, so we urge you to watch the videos on YouTube.
Shiv's Interview – https://www.youtube.com/watch?v=2fjrPO0-dfI

Chennai Chapter – http://www.youtube.com/watch?v=fxC6IxL7lcc
What will entertainment be like 20 to 30 years from today? We next conducted an online survey as part of our ongoing Future of Entertainment research and ideation project.
Our aim , for the online survey, was to present a set of futuristic scenarios to the survey participants and find out which scenarios they prefer the most as well as which ones they feel are most likely to actually happen in the future.
Scenario 1
Amelie Beaudroit
Toulouse, France
Artist and Human Factors Expert
Nowadays we can buy tickets for the opera when there is a famous ballet or play on in Paris, and watch it from our cinema seat in Toulouse 700km away. This is already a cool experience, to not have to go to the capital to attend the show. With holograms we could be closer to the live experience. I was thinking of a great 3D movie I saw last year, on the fantastic choreographer Pina Bausch. For once they made great use of 3D. At certain moments you felt as if you were wandering around the dancers. How cool would it be to attend a great ballet in New York City from wherever you are, and be able to move around the dancers as you wish without disturbing them? And attend a global interview after the show, adding direct interaction with the performers to that experience?
Scenario 2
Abhimanyu Chaudhary
Mumbai, India
Offline Editor and avid Gamer
It's been a long, tiring, and frustrating week at work for J. He gets back home late Friday evening and is supremely irritated with life in general. His girlfriend is coming over in a couple of hours. He needs to get his mood back on track to avoid a disastrous weekend. He needs a change.
His eyes go to his new gaming console. He decides to 'play' a film.
J sits in front of his TV, loading the film, 'Apocalypse Now'. He is presented with a screen where he has to choose a character out of 10 options. This will be his identity in the film. His actions, his choices will shape the story of the film and will provide a unique ending out of more than a thousand possible endings programmed for this film.
His week was spoilt by his 2 bosses, who have been overworking him. He can't send them away in real life, so he decides to play the character of the general of the largest guerrilla army in Vietnam, who is trying to throw the Americans out of his land. This is it. This is J's chance to teach his bosses a lesson. He smiles.
'YES'!' J screams, 2 hours later, having thrown the Americans out in just 3 years!!!
Maybe next time he will play the Russian spy he killed halfway into the film.
His miserable week at work is history to him now.
The bell rings. He gets up to open the door. Maybe it's his girlfriend. Maybe they'll play 'Breakfast at Tiffany's'. He smiles.
Scenario 3
Manasi Rachh
Mumbai, India
Theatre & Film Actress and Model
A guy in India wants to make a film about a Chinese guy going to America for the first time. He puts it up on a Facebook group for actors from China and America. Different actors shoot and upload their auditions. Our director sitting in India watches them and finalizes casting. He then transfers some money to them online, and sends them the script. They all meet on Skype to discuss the scenes. One of the American guys needs to speak Chinese. So he subscribes to a Chinese speaking course online for remote one-on-one lessons.
After 15 days, they are ready to shoot. Over Skype, the director directs the actors in front of a green screen. Once the shoot is over, the actors upload the videos online. The director needs a specific location in the film. He puts it up on a Facebook group for photographers. He selects the guy best suited for the job, who then clicks and emails him the pictures. The director likes a particular editor in Singapore. He connects with him online and transfers all the data to him. The guy edits it and shares it back. The sound engineer is from Australia. He hires dubbing artists from America, who see the final film online, dub for it and upload it. The sound guy then mixes the tracks and emails it to the director. The director sitting at home syncs sound and video, and yippee the movie's ready!
Now he starts promoting the film online and it has a grand online premiere. People pay on YouTube to watch it across the globe. The movie becomes a huge hit in India, America, China and Canada.
Scenario 4
Vikram Chauhan
Mumbai, India
Digital Creative Consultant
Vir is bored of watching popular entertainment. He feels that it does not resonate with his deepest feelings and beliefs. Ergo, he decides to create his own movie and, also, act in it.
First, Vir begins by casting his favourite characters in his movie – Mahatma Gandhi, Jesus Christ, Parmahansa Yogananda, Niragdatta Maharaj and Ramana Maharishi.
Then, he creates a comic movie plot – after all, Vir loves comedy, as much as he loves philosophy. And, thus is born the story of six recently-unemployed self-realized men who try their hand as Image Consultants with their company The Ego Ltd.
Vir 'enters' his movie, interacts with his favourite characters, and indulges in his senses, ironically hoping to transcend them some day.
Scenario 5
Dorian Nadaud
Paris, France
Post-graduate Architecture Student
A prominent, well funded private university is uncompromising in its choice of faculty. It decides that it wants the best teachers and minds in every profession to impart knowledge, regardless of whether they are alive or dead. On the basis of the writings, available pictures and videos, interviews and sound bytes, they develop virtual personas complete with opinions, ideas, mannerisms, and physical characteristics. Their initial virtual faculty consists of Albert Einstein to give lectures on relativity, Rembrandt to teach techniques in art, Ayrton Senna to teach driving, and Donald Bradman to give cricket coaching. Using translation services, these faculty members can give lectures in Zulu, Mandarin, Quechua, English, and Bengali amongst other languages. The university expands its virtual faculty programme to firstly include other dead luminaries, and then to share both virtual as well as 'real' faculty with other institutions across the world to give lectures, conduct practical experiments with students and guide research. This revolutionizes the education industry and the standing or quality of institutions progressively begins to be judged by their access to virtual faculty.
Scenario 6
Nerissa Scheik
Seattle, Washington
Macroeconomics Student and a Teacher of English
Sakura is a schoolgirl in Japan. She feels out of place amongst her classmates and is looking for a new friend. She joins a virtual hangout where she is placed in an augmented reality environment along with other people from across the world with similar interests. She meets Mamadou, a high schooler from the Congo. The inbuilt translation service translates the French Mamadou is speaking to the Japanese Sakura understands and vice versa. They hit it off quite well, learning that they have similar tastes in music, television, literature and cinema. They watch a few movies together in private virtual hangouts and gradually become best friends, despite the fact that they live on different continents and do not speak the same language.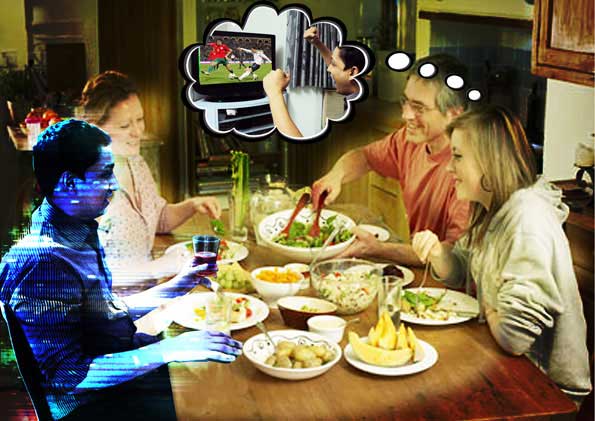 Scenario 7
Leah Israelevich Borovoi
Tel Aviv, Israel
Works in Jewish-Arab Relations, teaches Psychology of Holocaust, and supervises BA students in Decision Making and Cross Cultural Psychology.
Marina's parents have invited Marina and her new boyfriend for dinner. Unfortunately, the boyfriend is much more interested in watching a football game than in visiting Marina's parents. What to do? Marina subscribes to a service that makes a 3D duplicate of her boyfriend. Filled in with recorded customary phrases it is going to satisfy Marina's parents, while the boyfriend enjoys a football game.
Sometimes, Marina's boyfriend stays late at work, but she wants to talk to him and share how her day went by, or watch TV together. The 3D duplicate is always available. He can listen. He never disturbs. He always says the right things and is never bored.
All illustrations by Harsh Pandya
© Institute of Customer Experience, 2012. Republished with permission.
The Institute of Customer Experience (ICE) is a not-for-profit initiative by Human Factors International (HFI) started in 2012 with a vision to create a knowledge platform for designers, technopreneurs and innovators.
This article originally appeared here: http://ice.humanfactors.com/ent_gallery.html
Learn more here: http://ice.humanfactors.com/index.html